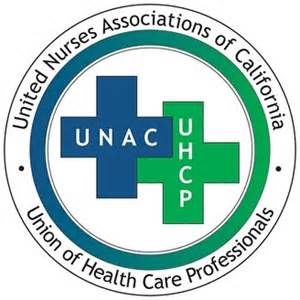 FOR IMMEDIATE RELEASE: September 17, 2021
Contact: Jeff Rogers | jeff.rogers@unacuhcp.org | (909) 263-7230 or Anjetta Thackeray | anjetta.thackeray@unacuhcp.org | (909) 263-7230
RNs Put the Brakes on 20+ Year Labor Management Partnership, Say Kaiser Permanente Walked Away First24,000 UNAC/UHCP RNs and health care professionals in contract negotiations could be heading for a strike, demand that KP invest considerable resources in patient care and safety.

www.investinpatientcare.com

Note: Union officers and bargaining teams members, nurses, and other health care professionals are available for television, radio, and print interviews.

LOS ANGELES – The largest, longest-lasting, most-comprehensive labor-management partnership (LMP) in the United States is in peril, and the 1 in 4 Californians who receive health care from Kaiser Permanente could suffer the consequences—says a union of 24,000 registered nurses and health care professionals, including pharmacists, rehab therapists, midwives, and optometrists.

The United Nurses Associations of California/Union of Health Care Professionals declared the 24-year partnership on life support—sending Kaiser Permanente formal notice that union members would "pause partnership activities." Union members say they have no choice as Kaiser Permanente has proposed hefty cuts to nurse wages and benefits—while the pandemic continues to spread amid a nationwide nursing shortage, and nurses face record levels of exhaustion, depression, PTSD, and burnout. A recent poll showed that most Americans, both Republicans and Democrats, believe nurses are underpaid.

"We can no longer sit back and watch the employer dismantle the partnership that's been in place since 1997," said UNAC/UHCP President Denise Duncan, RN, a chief negotiator on the union's bargaining team. "There's no question that partnership saved Kaiser Permanente in the 1990s and brought it to the heights of quality patient care, membership growth, territorial expansion, and even the opening of a medical school. KP is a profound leader in the health care community and our partnership had everything to do with that."

Kaiser Permanente is enormously profitable; the organization:
Took in $2.2 billion last year
Turned down $500 million in federal relief act money
Has amassed $45 billion in reserves
A majority of UNAC/UHCP members surveyed currently suffer from insomnia, depression, anxiety and burnout. More than half reported they were not getting the mental health support they need. 75% reported that staffing was the number one factor contributing to their strained mental health.
Yet, Kaiser Permanente in recent negotiations for a new contract proposed 1% raises to nurses and others who have risked their lives caring for COVID patients and proposed slashing the wages of those coming after them through a complex formula tied to a faulty market wage study, leading to massive cuts by 2023.
These proposals—certain to make staffing shortages worse—come as hospital systems across the country take the opposite approach, offering large raises, signing bonuses, and other incentives in competition for the dwindling pool of nurses. A flashpoint in the negotiations has been getting Kaiser Permanente to address chronic short staffing. The American Nurses Association even called for the U.S. Department of Health and Human Services to declare the nurse staffing shortage a national crisis on September 1.
UNAC/UHCP leaders since at least 2018 have been calling out Kaiser Permanente's abandonment of partnership principles which built the organization's industry-leading reputation for innovation and high-quality patient care.
"We risked our lives and our own families' health to save people," said Peter Sidhu, RN, UNAC/UHCP Treasurer and member of the union bargaining team, who cared for COVID-19 patients from the first days of the pandemic through last winter's surge. "Some of us died from it. Others still suffer long-haul symptoms. We were without beds, we had patients in tents, not enough nurses. The employer should be thanking us. Instead, Kaiser Permanente has chosen to drive down wages and benefits."
"At their heart, Kaiser Permanente's proposals attack the fundamental principle of fairness on the job: equal pay for equal work," said Joe Guzynski, Executive Director of UNAC/UHCP, chief negotiator along with President Duncan on the union's bargaining team. "How are you going to recruit nurses if you do that? How are you going to protect patient care if you don't invest in those who provide it?"
Last night, UNAC/UHCP's leadership of their 18 Kaiser affiliates voted unanimously to move forward with a vote among the membership to authorize the bargaining team to call a strike if needed.
"Our last negotiations were on September 10 and we've scheduled no new dates," said Guzynski. "We're focusing on in-depth conversations with our members about these issues and what to do next. With most of our contracts set to expire on September 30, if Kaiser Permanente intends to force these wage cuts, it could lead to nationwide actions, including a strike."
"How do you tell caregivers in one breath you're our heroes, we're invested in you, I want to protect you, but in the next say I want to take away your wages and benefits? Even say you're a drag on our bottom line," said Charmaine Morales, RN, UNAC/UHCP Executive Vice President and union bargaining team member. "For the first time in 26 years, we could be facing a strike."
"From where we were in partnership before to where we are now, there's just been this slow erosion," said Elizabeth Hawkins, RN, UNAC/UHCP Secretary and union bargaining team member. "And partnership isn't partnership anymore."
The current negotiations for a national contract between Kaiser Permanente and UNAC/UHCP, along with twenty other unions in the Alliance of Health Care Unions (AHCU), cover more than 50,000 workers across hundreds of job classifications in nearly every geographic area where Kaiser Permanente has a presence. In addition to caring for one in four Californians, Kaiser Permanente's reach now extends to the entire U.S. west coast and Hawaii, as well as Maryland, Virginia, and Washington, D.C., and Georgia and Colorado. The unions are pushing for solutions to long-standing issues with staffing, equal access to care, patient and worker safety issues, and racial justice.
The strife comes in the midst of a two-year pandemic that has spread fear and frustration throughout the ranks of health care workers and our communities. Kaiser Permanente has publicly made health care workers' salaries the target of a so-called threat to its bottom line.
Union workers say the real threat is to patient care. The partnership—lauded by presidents, journalists, and academics—has been credited with improved patient care outcomes in areas from hip replacements to hypertension and diabetes management.
The LMP has outlasted similar partnerships attempted at Saturn and Harley Davidson but might soon join them in history's rearview mirror. New Kaiser Permanente executives have stepped back from the legacy of the late Bernard Tyson, who oversaw exponential growth in the organization's membership and operating income through the LMP's collaboration with frontline workers.
---
Lately, union members have seen cracks in the partnership:
COVID-19 hospitalizations have magnified Kaiser Permanente's long-term neglect of important staffing issues that need to be fixed.
Kaiser Permanente is abandoning the partnership in favor of divisive ideas that will deter new nurses and health care workers from entering the field and will make staffing shortages much worse.
The biggest hits Kaiser Permanente faces to its bottom line come from $538,000 in OSHA fines, $28 million in settlements for discriminatory promotional policies, and looming costs from a Department of Justice investigation into Medicare fraud.
A renewed commitment to quality care and partnership with caregivers could turn this trend around.
---
Frontline Voices
UNAC/UHCP members willing to talk to the press. Here are a few members and what they had to say.
Contact Jeff.Rogers@unacuhcp.org (909) 263-7230 or Anjetta.Thackeray@unacuhcp.org (909) 455-5146
Marcial Reyes, RN, ED, Kaiser Permanente Fontana: "I was one of the first health care workers to get COVID. More than 3,600 health care workers died in the first year of this pandemic. Most of them are nurses. I was one of the lucky ones. Even after having COVID and almost dying, I showed my commitment, came back to work to help others survive. I wish Kaiser had the same commitment to us."
Loan Nguyen, Occupational Therapist (OT), Kaiser Permanente Riverside: "Changing wages is going to hurt Kaiser in the long run because you're going to see it impact the standard of patient care. It's going to lower professional standards and patient access."
Jenny Wong-Swanson, RN, Kaiser Permanente Woodland Hills, who has cared for COVID patients since the pandemic began and kept a pandemic video diary for NBC National News:
"We were stretched thin, asked to work out of ratio, without resources, without support, without the proper equipment. I felt uncertain about the safety of my patients, my own personal safety, and the safety of my family at home."
Jacqueline Asfall, RN, Baldwin Park, who partnered with Kaiser Permanente's Chief Nursing Officer through LMP in 1998 to plan the opening of Kaiser Permanente Baldwin Park:
"Our managers are sometimes novices, not nurses, with no knowledge of the profession that they're managing. Let's identify the problem and work together to solve it, because if we don't solve this together, it's not going to get fixed, it's going to get worse."
---
Destruction of a Legacy
The Labor-Management Partnership (LMP) arose out of contentious contract negotiations in the 1990s at a time when KP was not profitable and was threatening to get out of the hospital business. A coalition of unions banded together and found well-meaning leaders within Kaiser Permanente who trusted and believed in labor.
With a push from the then-head of the AFL-CIO, John Sweeney, Kaiser Permanente—led by CEO David Lawrence and labor's Peter di Cicco—and the union coalition entered into an unprecedented agreement to share information and decision-making from top to bottom of the organization.
The LMP, which outlasted similar partnerships attempted at Saturn and Harley Davidson, won White House praise in 2015 and has been studied, tracked, and written about by scholars from institutions including Harvard, Cornell, MIT, and Rutgers. It was the subject of at least one book, Healing Together: The Labor-Management Partnership at Kaiser Permanente by Thomas A. Kochan, Adrienne E. Eaton, et al., while Steven Greenhouse, longtime labor reporter for The New York Times, devoted a chapter to the LMP in his recent book on labor history, Beaten Down, Worked Up.
"Kaiser Permanente has stepped back from the principles of partnership for some time now," said UNAC/UHCP President Denise Duncan, RN, "and they have violated the letter of our partnership agreement in the lead up to our present negotiations. Despite that, we are here and ready to collaborate again if KP leaders find their way back to the path—where patient care is the true north in our value compass, and everything else falls in line behind that principle. Patient care is Kaiser Permanente's core business, or at least we thought so."
Kaiser Permanente patients and the public can go to www.investinpatientcare.com to sign UNAC/UHCP's petition calling for Kaiser Permanente to invest in patient care and the people who provide the care.
NOTE: All Kaiser Permanente employees quoted in this press release are speaking NOT as representatives of Kaiser Permanente, but as patient advocates and representatives of UNAC/UHCP—protected concerted activity as defined by the National Labor Relations Act, the National Labor Relations Board, and U.S. courts.
###
United Nurses Associations of California/Union of Health Care Professionals (UNAC/UHCP) represents more than 32,000 registered nurses and other health care professionals in California and Hawaii, including optometrists; pharmacists; physical, occupational and speech therapists; case managers; nurse midwives; social workers; clinical lab scientists; physician assistants and nurse practitioners. UNAC/UHCP is affiliated with the National Union of Hospital and Health Care Employees and the American Federation of State, County and Municipal Employees, AFL-CIO.