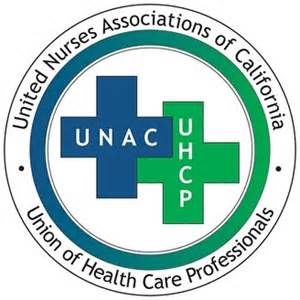 FOR IMMEDIATE RELEASE
Contacts:
Jeff Rogers | jeff.rogers@unacuhcp.org | (909) 263-7230
Anjetta Thackeray  | anjetta.thackeray@unacuhcp.org | (909) 455-5146
Los Angeles—UNAC/UHCP—a union of 32,000 health care professionals—is proud to announce the new 2021 UNAC/UHCP Alexis G. Philius Scholarship. Lack of diversity has significant consequences on health outcomes and health equity for patients and communities of color. In light of Black/African American professionals' gross underrepresentation in the health care industry, we created this scholarship to specifically increase students' access to these fields.
Alexis Goudeau Philius, RN, an African American bedside nurse for 13 years, was inspired to make a difference after noticing homeless people on Los Angeles streets during her commute to and from work. She founded Highly Favored: A Blessing to Others, a nonprofit organization that is  best known for the annual Backpack Friday drive held the day after Thanksgiving to distribute backpacks of health supplies to the homeless on downtown Los Angeles's skid row. The organization distributes food, toiletries, warm clothing, and other supplies to homeless people in Los Angeles County.
"I'm honored that my name's been chosen for this scholarship," said Philius. "I was raised by a single mother and I know how hard she worked to put me through school, so I always wanted to help out. That's why it meant so much to me when I received a scholarship to nursing school. To help give one out now means even more, because I know the impact it can have on people's lives, especially in the Black community. This scholarship will help them enter the medical field."
Philius was honored last summer for service, courage and excellence by her employer, Kaiser Permanente. The David Lawrence Award for Community Service recognized her for her organization. For more on Philius and her work for the community: https://youtu.be/g2fAWKjsWUw
Financial obstacles were identified as the top barrier to success among minority students in a 2017 study of minority applicants to nursing programs, while numerous studies document the underrepresentation of Black people across disciplines in health care and its consequences.
"We don't have that many Black caregivers who work by the bedside," Philius said. "That can make it difficult for marginalized populations. The more we have working, the better the outcomes for patients in Black and other minority populations."
Mounting evidence suggests that when health care professionals and patients share the same race or ethnicity, multiple success factors in health outcomes are amplified: time spent together, medication adherence, shared decision-making, wait times for treatment, patient perceptions of treatments decisions, and more, according to studies reported by UNAC/UHCP researchers. Americans of Black/African descent represent around 13% of the U.S. population, but:
Black/African Americans represent only 6.2% of the registered nurse (RN) workforce (2017 study by the National Council of State Boards of Nursing (NCSBN)
Just 6% of medical school graduates were Black or African American (Association of American Medical Colleges/2015)
Just 3.3% of the 2017-2018 first-year Physician Assistant (PA) program students were Black or African American
Black students accounted for only 3.1% of enrollment in all Physical Therapy education programs in 2018
Just 23% of Black Americans have a physician that shares their race or ethnicity, compared to 82% of white Americans
The need for greater Black representation in health care has never been more apparent, with COVID-19 killing Black Americans at a rate roughly two times greater than would be expected based on their share of the population. One-third of those hospitalized with COVID-19 have been Black and Black Americans account for one in four COVID-19 deaths in the United States.
These outcomes are not a departure. Black Americans have the highest morbidity and mortality rates of any U.S. racial and ethnic group, with rates approximately 1.6 times higher than those for whites. Black Americans have the highest mortality rate for all cancers and are two to three times as likely as whites to die of preventable heart disease and stroke.
The Alexis G. Philius Scholarship, which will award $2,000 to five recipients, is for students of Black/African descent who are pursuing a license, certificate, or health care degree at an accredited college, university, trade, or technical school at any time between January 1, 2021, and December 31, 2021. The deadline to apply is March 31, 2021, at 3 p.m. (Pacific Time).
Philius offers this encouragement to applicants: "I say follow your passions, seize opportunities, and plant the right seeds that will last you a lifetime. Know that you are enough. Don't let anyone tell you what you are doing is too small. You have the power to change the world."
For more information: unacuhcp.org/apply.
The Alexis G. Philius Scholarship is the newest addition to three other UNAC/UHCP scholarships that have been awarded to 154 students since the program began in 2013 and distributed $401,000 since 2015. The other three UNAC/UHCP scholarships are the Kathy J. Sackman Member Scholarship for UNAC/UHCP members; the Sonia Moseley Family Scholarship for family of UNAC/UHCP members; and the Delima MacDonald Community Scholarship, an at-large scholarship.
###
United Nurses Associations of California/Union of Health Care Professionals (UNAC/UHCP) represents more than 32,000 registered nurses and other health care professionals in California and Hawaii, including optometrists; pharmacists; physical, occupational, and speech therapists; case managers; nurse midwives; social workers; clinical lab scientists; physician assistants and nurse practitioners. UNAC/UHCP is affiliated with the National Union of Hospital and Health Care Employees and the American Federation of State, County and Municipal Employees, AFL-CIO